Products
HomeProducts
LAS 4-P10 Solar
LAS 4-P10 Solar
Unique to LED Art Signs P10 Screen running on Solar power
Back to list
This year, we are introducing the New Generation Full Colour LED Trailers. Made to order to suit your requirements. Perfect to use as a roadside or event trailer. The P10 full colour high resolution screen allows you to display text, images and even animations or videos.


The monthly payment figures below are current as of October 2018 and may vary from time to time.
Options include:
Solar Powered
Your choice of trailer colour
Wifi, 3G or Ethernet connections
We can finish your trailer by adding your own Logo stickers and contact details for no extra cost when you purchase a trailer from us.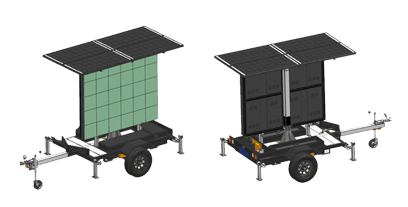 Prices are subject to change without notice. Each product comes with their own agreed warranty period. Warranty covers faulty parts, however, it does not cover damage to the signage or trailer. To insure your LED Sign, contact your preferred insurance company. All LED Signs & Trailers remain the property of LED Art Signs -Intertrade Stationery Products Pty Ltd until fully paid. A minimum of 50% deposit will be required when placing your order, unless both parties agreed otherwise. Full payment will be required at completion of job.
| Term | 2 Years | 3 Years | 4 Years | 5 Years |
| --- | --- | --- | --- | --- |
| Monthly payment | | | | |
| Weekly payment | | | | |
Buy Now: $26,950Add to cart